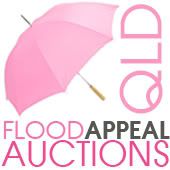 I can't begin to imagine what people are feeling in Queensland tonight - nature is amazing and water can be so destructive. I've decided to join in with the auctions to raise funds for flood relief in Queensland.
Toni
and her sister are doing an amazing job coordinating these auctions of handmade items with a masterlist being posted on Monday 17 January 2011.
I'm planning to put together a few bits and pieces - some things handmade, maybe some scrapbooking supplies, a quilting book, and I think I'll even put together a second vintage sheet layer cake (the same as the one you can win in my
201 post giveaway
)!
So check back here on Sunday which is when I plan to start my auction(s).